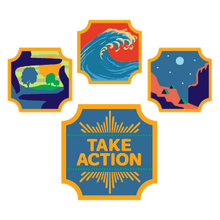 In this Journey, you will:
Deepen your outdoor skills when you earn your Outdoor Art Master, Water, and Survival Camper badges.
Plan a Take Action project that helps people.
Earn a Take Action Award. If you're a Girl Scout volunteer, go to Volunteer Toolkit for complete meeting plans and activity instructions.
Learn more about how to earn your Take Action Award — and help your community — with the Girl Scout Take Action Guide. Then use your leadership skills to earn your Gold Award, the highest award for Girl Scout Seniors and Ambassadors!
All items (1)